Candidates 2004
The Green Party of Iowa is proud to support well-qualified candidates who offer fresh approaches to issues facing Iowa and the world.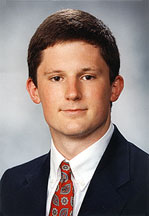 Johnson County Board of Supervisors Candidate:
Kevin Owens lives in Iowa City and is a student at the University of Iowa. He is majoring in economics and sociology. He also works for Cambus, the U of I bus system. Kevin is from Cedar Rapids, Iowa, and graduated from Kennedy High School. Kevin is also an Eagle Scout and has been involved with the Green Party since 2001.

Major Issues:
Create More Affordable Housing
Johnson County, like the rest of the nation, has an affordable housing crisis. We don't need large housing complexes that concentrate poverty and crime in one neighborhood. If we integrate small collections of apartments and small houses into our existing communities and within new development, we can grow our economy and become a more socially responsible community.
Maintain Social Services Despite Budget Cuts
Residents of Johnson County should be proud of the high quality of their social services. While state budgets and federal assistance to Johnson County continue to shrink our revenues we must maintain, and seek to improve when possible, our excellent services.

Maintain Balance between Development and the Environment
Johnson County is the second fastest growing county in Iowa. While we will need new development, it needs to be balanced with the quality of our environment. We need to set aside land that isn't suited well for agriculture for parks and waterways. Parks and nature reserves are essential to the quality of life in Johnson County.
For the past 50 years, development in America has been encouraging people to use cars for transportation--making these necessities rather than luxuries. It should be the other way around. Johnson County should create an alternative set of zoning regulations, with a fast track approval process for developers who choose them, based on the principle that everyone should be able to get what they need for day to day living without having to use a car.
There are many benefits to this style, often called New Urbanism. Those who can't drive, like children and the elderly, as well as those who can't afford an automobile, would not be not isolated or marginalized. With walkable neighborhoods and more public transportation we can reduce costly repairs to roads. Towns would have distinct boundaries, separated by farm land and undeveloped areas, thus preserving our natural areas.
Invest in Renewable Energy
Iowa imports 98% of its energy from out of state, mostly in the form of coal. This is a five billion dollar industry. Iowa has a great potential for renewable energies such as wind, solar, and geothermal electricity. Investing in renewable energies will add strength to our economy. Johnson County should lead the way in development in Iowa's renewable energy. Feasibility studies should be conducted throughout Johnson County to see where we should start investing. We should create a program where property owners can buy solar panels and wind turbines from the County with the electricity they produce. The County should also look into creating a public power utility.
Invest in Public Transportation
The SEATS program does an excellent job. We should conduct studies to see how we can increase public transportation in Johnson County. Buses or light railway connecting the Iowa City/Coralville area to our townships can increase commerce in Johnson County. If we can create a solid public transportation system in Johnson County, future development can center on it as well.
Living Wage Ordinance
I believe every person has the right to earn a living wage. The minimum wage of $5.50 and hour does not even come close. When we pay taxes to support human services for working people and their children, we are really subsidizing the disgraceful labor practices of multinational corporations. I propose a living wage ordinance that makes companies with over 500 employees pay a minimum of $10 an hour and provide affordable dental and health insurance.
Create a Local Currency
Creating a local currency is perfectly legal and would expand our economy by keeping the wealth generated in Johnson County within Johnson County. Other communities, such as Ithaca, New York, have had great success with this initiative. Local farmers and businesses would accept the currency, thus keeping profits in Johnson County.
Other Issues:
Resolution opposing the PATRIOT Act
There are many parts of the PATRIOT Act which are unconstitutional and restrict the rights of citizens. Johnson County should not enforce any of the unconstitutional provisions of the PATRIOT Act.
Same Sex Marriage
The 14th amendment says that all people have the same rights. At present, gay and lesbian couples do not have the same legal rights as traditional couples. Johnson County should recognize the legal rights of people who are married to someone of the same sex.
Corporate Personhood
When corporations have the same protected rights as people, they become a sort of "super-human." They don't die, they can't be put in jail, shareholders can't be held responsible for the actions of the corporation, and they have nearly unlimited resources. Though corporations should have some rights, they shouldn't have the same constitutionally protected rights as people. Johnson County should declare that it will not recognize corporations as people.
Socially Responsible Product
Johnson County should try increase its use of organic, recycled (preferably post consumer recycled), easily biodegradable, and union and/or locally made supplies.

PRESIDENTIAL CANDIDATE:

David Cobb is the Green Party candidate for President in 2004. He served as the General Counsel for the Green Party of the United States until declaring his candidacy and was the Green Party of Texas (GPTX) candidate for Attorney General in 2002.
He had a successful law practice until early 2000, when Ralph Nader asked him to manage the Green Party effort in Texas. He coordinated the ballot access drive in Texas that collected over 76,000 signature in 75 days. When he ran for Attorney General there were 4 local chapters of the Green Party of Texas. At the conclusion of his campaign, there were 26 chapters.
David lectures and facilitates "Rethinking Corporations/ Rethinking Democracy" seminars and workshops across the country, which explore the social, legal and historical context of how corporations have become the dominant institution of our times. These seminars focus on how corporations have become unelected governing institutions, and how we can create (and win) a nonviolent democratic revolution in response.
He serves on the Steering Committee of Democracy Unlimited of Humboldt County, and as Campaigns Director for ReclaimDemocracy.org, both of which are citizens' groups dedicated to contesting and challenging the illegitimate corporate usurpation of our Constitution and our government.
For more information, see www.votecobb.org.